Emirates ID Renewal – Complete Guide
Are you looking for emirates id renewal? If yes then you are at the right place. Here is a complete guide on how to renew emirates id process.
Ever felt a tad lost when trying to navigate governmental procedures? We've all been there. Especially when it's time to renew something as essential as our Emirates ID. But guess what? We're here to help!
Imagine this. Gliding through the renewal process as smoothly as a dhow sailing over the tranquil Arabian Gulf. Sound too good to be true? It's not. Renewing your Emirates ID, a vital document for every UAE citizen can be just as straightforward.
Your Emirates ID is not just any ID. It's your key to a multitude of services that the UAE offers. From healthcare to banking, and so much more, this card unlocks it all.
We've pieced together an easy-to-follow guide. Its purpose? To make the process of Emirates ID renewal as simple as a pleasant evening stroll along the Dubai Marina.
Whether you're a seasoned expat who's called the UAE home for years or a newcomer to this land of opportunity, this guide is for you. We've made sure it will cater to your needs, ensuring a hassle-free renewal experience.
So sit back, get comfortable, and let's dive in. Welcome to the simplicity of renewing your Emirates ID online. Welcome to your stress-free journey to a renewed Emirates ID!
Emirates ID Renewal Process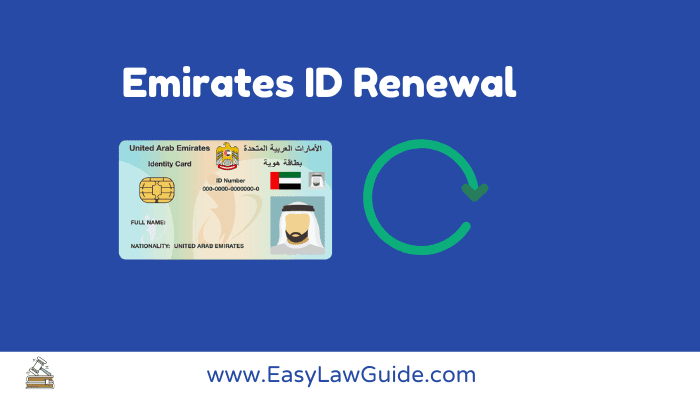 Renewing your Emirates ID online is a simple process. Here are the steps involved.
Step 1: Requirements
To renew your Emirates ID online, you need certain documents ready. These include the following
Personal Photo
Passport Copy
Valid Residency Visa
Step 2: Visit the Federal Authority for Identity and Citizenship (ICA) Website
You can apply for the ID card renewal service at the website of ICP, through ICP App on Google Play, App Store, and Huawei, or through a typing center.
Step 3: Register/Login with UAE Pass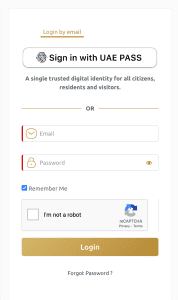 If you haven't created an account with UAE Pass already, register an account with UAE Pass. This digital identity platform offers secure access to a range of UAE government services.
Now login to the portal using your UAE Pass.
Step 4: Navigate to ID Card Renewal
Once logged in, navigate to the 'Services' section and select 'ID Card Renewal'. It's your time to shine and get that ID renewed!
Step 4: Fill in the Details
You'll need to fill out all necessary details about yourself, including your personal information, address, and contact details. Make sure you double-check all the facts before proceeding to the next step.
Step 5: Upload the Necessary Documents
Now it's time to upload the necessary documents. Make sure your documents are clear and legible to ensure a smooth process.
Step 6: Pay the Fees
The last step in the process is to pay the renewal fees. The fee structure varies based on the duration for which you are renewing your ID.
| Service | Cost (AED) |
| --- | --- |
| Emirates ID renewal (per year of validity) | 100 |
| Typing office service charge | 70 |
| Visa fees for 2 years | 200 |
| Visa fees for 3 years | 300 |
| Online service fee | 40 |
| 24-hour fast-track service | 150 |
It's important to note that these costs can vary and it's always best to check the latest fees on the official ICA website. But, with this table, you'll have a general idea of what to expect when budgeting for your Emirates ID renewal. Happy renewing!
That's it! You've now applied for a renewal of your Emirates ID.
What Happens After the Online Renewal Process?
After submitting your renewal application, the ICA reviews it. If there are any discrepancies, they will contact you. Otherwise, your new Emirates ID will be printed and dispatched for delivery. You can also track the status of your application here.
Picking Up Your New Emirates ID
Once your new Emirates ID is ready, it will be sent to the post office selected during the application process. You will receive an SMS notification when it's ready for pick-up.
Importance of Emirates ID Renewal
Uninterrupted Access to Services: Your Emirates ID serves as the primary identification document, enabling you to access a multitude of government and private sector services. By renewing it promptly, you ensure uninterrupted access to these services.
Avoidance of Penalties: Timely renewal of your Emirates ID helps you avoid potential fines. The UAE government imposes penalties for expired IDs, so renewing on time saves you money.
Valid Residency Proof: For expatriates, a valid Emirates ID is proof of legal residency in the UAE. By keeping it up-to-date, you reaffirm your legal status.
Ease of Travel: Renewing your Emirates ID facilitates smoother domestic travel across the UAE, as it is commonly used for identity verification.
Healthcare Benefits: A valid Emirates ID is often needed to access healthcare services. Renewal ensures that you and your family can avail of these services when needed.
Banking Transactions: Banks in the UAE often require a valid Emirates ID for transactions. Timely renewal aids in seamless financial operations.
Employment Verification: For those seeking employment, an up-to-date Emirates ID is essential for work permit applications and labor contract authentication.
Remember, keeping your Emirates ID renewed is not just a legal requirement, but it's also your gateway to an easier, more convenient life in the UAE.
Related Posts:
Conclusion
Renewing your Emirates ID online is a hassle-free process that saves you time and effort. Keep your Emirates ID up-to-date to continue enjoying the benefits and services offered by the UAE government.
Remember to prepare your documents in advance and ensure all details are correct before submitting your application. Here's to a smooth Emirates ID renewal process!
---
The content in this article is intended to be of general informational use and is not intended to constitute professional advice. Please seek advice from professionals, as appropriate, regarding the evaluation of any specific