Is Lane Splitting Legal In PA?
How frequently do you see motorbike riders in Pennsylvania trying to maneuver around other cars when there is a traffic jam? You probably notice it a lot, which can make you, worry if their behavior is legal. 
This is lane splitting and in some states it is considered legal while in some it is illegal. So, people often get confused about is lane splitting legal in PA or not.
Is lane splitting legal in PA?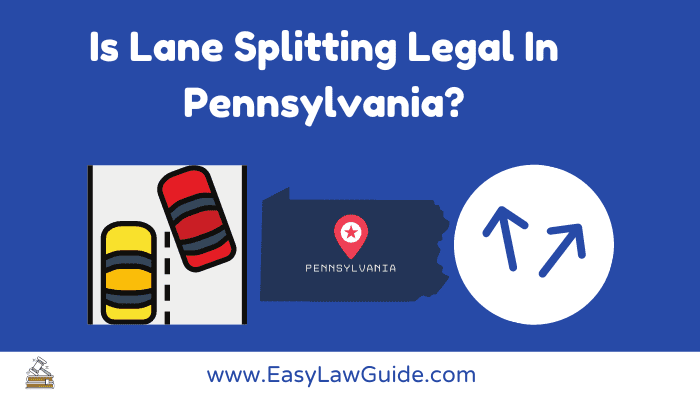 Lane splitting in PA is illegal along with 30 more states in the US. As the Pennsylvania government believes that lane splitting is dangerous and can cause accidents, they prohibit lane splitting practice in the state. 
Even though Pennsylvania prohibits this behavior, motorcycle riders tend to engage in it. Even, many organizations debate about allowing lane splitting in PA. Along with some groups, American Motorcyclist Association (AMA) supports lane splitting, especially with safety guidelines. According to them, lane splitting has the benefits to reduce traffic and save traveling time. 
On the other hand, opponents want to keep it illegal to avoid any mishappening and safety of people. 
What should I do if involved in an accident in a lane-splitting case
?
Call the police and stay on the site until they arrive. Even if you don't think you are hurt, get help immediately. Take pictures of the crash site, the involved automobiles, and any injuries. 
When speaking to the other motorist, the police, or your insurance provider, do not apologize or accept fault. Remember; report the accident to your insurance provider as soon as you can.
FAQs
Does lane splitting have any benefits
?
Lane splitting has some benefits; for example, it can help motorcycle riders avoid rear-end collisions and get away from other dangerous traffic situations. As Pennsylvania prohibits lane splitting, drivers should be alert for motorcycles attempting it. 
Why should I contact a lawyer if engaged in a lane-splitting accident? 
If you get hurt in a lane-splitting case, you may get damages because of the other party's negligence. Consult a lawyer who will liaise with your insurance company and the other party's insurance company if needed.
What is comparative fault applicable in Pennsylvania cases?
There is a doctrine called comparative fault that determines the responsibility for a mishap. If you try to involve in lane splitting and the mishap happens, the other party will not be completely responsible for the mishap. 
Related Posts:
Conclusion
: 
There is a clear answer to "Is lane splitting legal in PA." Lane splitting is illegal in Pennsylvania. Despite stringent rules, many motorists tend to practice it and some organizations and groups want to make it legal. You must abide by the rules while riding a motorcycle as Pennsylvania considers it illegal. If you are caught, you will have to get into legal consequences.